Tenants celebrate 20 years since Glasgow housing stock transfer
Tenants in Scotland's biggest city have celebrated 20 years since the transfer of more than 80,000 council homes to Glasgow Housing Association (GHA).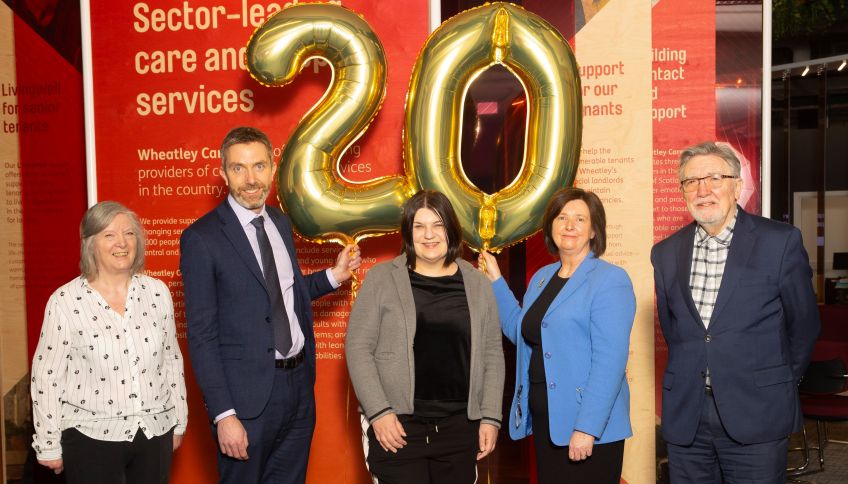 The formal transfer of Glasgow City Council's housing stock on 7 March 2003 took place after 58% of tenants who took part in a ballot voted in favour of the move.
UK Chancellor Gordon Brown had offered to cancel Glasgow's crippling housing debt of more than £900 million if tenants voted for transfer.
Since 2003, GHA, and its successor Wheatley Homes Glasgow, has spent more than £1.5 billion improving homes across the city.
Tenants and board members joined Susan Aitken, the Leader of Glasgow City Council, for an event at Wheatley House in Glasgow yesterday (Tuesday 7 March) to celebrate the landmark.
Bernadette Hewitt, tenant chair of Wheatley Homes Glasgow, said: "I'm so proud to see the difference stock transfer has made to our great city.
"The impact of our investment in high-quality, warm, secure and affordable homes is something I see every time I step out of my front door.
"I know that feeling of pride is felt in communities right across Glasgow, from Easterhouse in the east and Drumchapel in the west to Castlemilk in the south.
"The significance of stock transfer, and the opportunity it brought to regenerate homes and communities, the positive difference it has made to so many people's lives, should rightly be celebrated."
Since 2003, Scotland's biggest social landlord has:
spent £1.5bn refurbishing 70,000 homes;
built almost 4000 new homes;
created 6500 jobs and training opportunities for tenants; and
helped tenants claim £60m in benefits and save £3m on their fuel bills.
In 2011, a study by Heriot Watt University showed GHA's investment programme added £925 million to the UK economy.
In 2019, a report from the Fraser of Allander Institute revealed GHA's work to improve homes boosted the Scottish economy by £2 billion and supported 2425 full-time jobs per year.
Shona Robison, Cabinet Secretary for Social Justice, Housing and Local Government, said: "I congratulate Wheatley Homes Glasgow on the considerable progress made with the housing stock in Glasgow over the last 20 years. We are proud to have supported investment that has resulted in improvements to existing homes, the construction of thousands of new high-quality affordable homes and benefitted communities all over Glasgow.
"The Scottish Government recognise there is still more to do and we are committed to the continued delivery of affordable housing across Scotland to achieve our ambitious target of delivering 110,000 affordable homes by 2032, of which at least 70% will be available for social rent."
Wendy Alexander, the then Housing and Communities Minister at the Scottish Executive, said: "It is amazing to think 20 years have passed since Glasgow's tenants voted for a different future. Looking back, that bravery has been rewarded.
"The housing debt burden that had blocked new investment for decades has been lifted and new investment has gone ahead.
"Of course, huge housing challenges remain. Yet today in Glasgow that challenge is more about the quantity of social rented housing and less about its quality.
"That strong demand for more social housing is itself a tribute to the tenants who voted for change two decades ago and to all the amazing housing professionals who have worked tirelessly to ensure the vision to rebuild and create new jobs, renew and deliver quality homes, and ensure tenants views were at the heart of decision making was realised.
"Many congratulations to everyone helped who turned that hope of 2003 into a new reality."
Caption for image: Cathy McGrath, Wheatley Homes Glasgow Board member; Steven Henderson, Wheatley Group Chief Executive; Susan Aitken, Glasgow City Council leader; Bernadette Hewitt, Chair of Wheatley Homes Glasgow; and Robert Geddes, former GHA board member.
Wednesday, March 29, 2023