Demolitions
Glasgow's skyline has changed dramatically since Wheatley Homes Glasgow's first multi-storey demolition in 2005. Five tower blocks at Mitchellhill in Castlemilk were the first multi-storey flats to be demolished by Wheatley Homes Glasgow.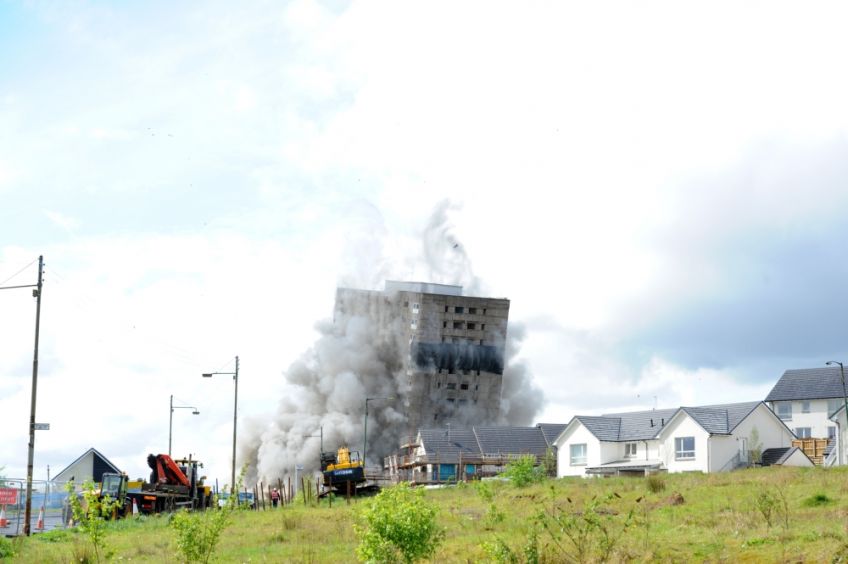 Thousands of tenants have since left behind cold, damp flats for new or upgraded homes across the city.

Our demolition programme has allowed us to support local and major regeneration projects in Glasgow. This includes Transforming Communities: Glasgow projects in Transformational Regeneration Areas.
---
Demolition firsts
Wheatley Homes Glasgow and our demolition contractors lead the way when it comes to multi-storey demolitions.
Fountainwell Place, Sighthill, July 2008:
Regeneration plans for Sighthill went off with a bang when two multi-storey blocks were razed to the ground in Scotland's first night-time demolition.

The 19-storey double blocks were brought to the ground by 65kg of explosives for each block in the early hours of the morning to minimise disruption to the local area.
Broomloan Court, Ibrox, April 2010:
The UK's tallest mobile ultra-high reach machine was used to demolish three tower blocks.

It was the first time the 65-metre (213 feet) machine had been used in Scotland. At its highest point, the machine stretched taller than 14 double-decker buses placed on top of each other.
Whitevale and Bluevale, Gallowgate, December 2014:
Scotland's tallest residential multi-storeys disappeared in a landmark demolition.

The 85-metre Whitevale and Bluevale high-rise flats were deconstructed piece by piece using 'TopDownWay' technology – the first time it had been used outside of France.

A platform on top of the building allowed demolition staff to remove walls and floors piece by piece. Once work on each floor was complete, the platform descended to the next storey until it reached the lower levels.

Wheatley Homes Glasgow and its partners won the Collaboration prize at the World Demolition Awards for the work at the Gallowgate.
Red Road, Balornock, 2012–2015:
Wheatley Homes Glasgow and demolition specialists Safedem safely demolished the tallest steel-framed residential flats in Europe.

Built from 1964–1969, the eight multi-storeys ranged in height from 25 to 30 storeys. There were 1326 flats among the eight blocks. At one point the flats provided housing for around 5000 people.

The triple block at 153–213 Petershill Drive was demolished using explosives in June 2012.

A single block at 21 Birnie Court came down in May 2013 with the remaining blocks being demolished in late 2015.

Check out the Red Road story video below.
---
Recycling
We take our environmental responsibilities seriously.
Blocks are stripped of all fixtures and fittings before demolition. All wood, cabling and windows are also removed.
More than 90 per cent of rubble from a concrete block demolition is crushed, graded and recycled.
Around 116,600 tonnes of demolition debris from some of Glasgow's tower blocks formed the foundations of the M74 road.
The rubble from blocks in Sighthill, Laurieston and Pollokshaws went into the road, which connects the M74 at Fullarton Road with the M8 south of the Kingston Bridge.
Several 2014 Commonwealth Games venues and approach roads were also built from recycled high-rise rubble.