Neighbourhood services
We want tenants to be proud of where they live and to enjoy living in safe, clean and tidy communities. Our Neighbourhood Environmental Teams (NETs) play a huge role in making this happen.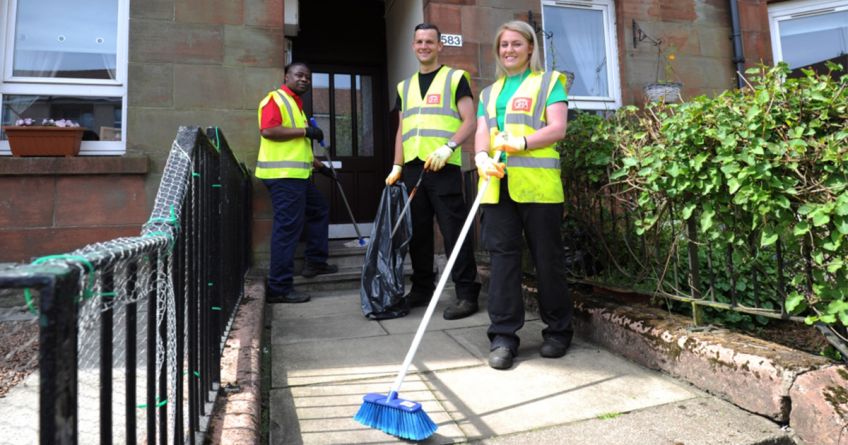 Employing around 600 staff, they help keep Wheatley Homes Glasgow communities spick and span. It's quick and easy to report issues in your neighbourhood using your online services account.
On your online services account, you can let us know about:
stair cleaning
back court maintenance
and much more to help keep your neighbourhood spick and span.
Don't have an account yet?
Sign up for online services. It's safe and secure, and it only takes a few minutes
Already have an account?
Login securely to online services, go to the 'My Services – Your Neighbourhood' page.
---
Do the NETs clean tenements and multi-storeys?
The NETs clean 4000 tenement closes each week. In the summer, staff cut back court grass areas every two weeks.
The tenement team:
brushes and washes stairs
removes bulky items
cleans paths and bin areas.
Our teams also keep 127 multi-storey blocks clean and tidy every week.
The multi-storey team:
cleans foyers and lifts
de-litter
carry out patrols day and night
carry out landing and stair cleaning.
Do you cut trees?
The arborist team cuts back or removes dead or diseased trees from our properties or open spaces owned by Wheatley Homes Glasgow. They also cut back trees which are a risk to the public or to our buildings.
What other services are available?
NETs can also:
remove fly tipping
clean small areas of graffiti
cut hedges and gardens
carry out weed spraying.